Bring remote and global teams together
Livestreaming internal communications can significantly increase employee engagement, overcome geographic barriers, and mitigate risks associated with delayed or incomplete information sharing, resulting in a more informed, connected, and productive workforce.
Why should you livestream your next internal event?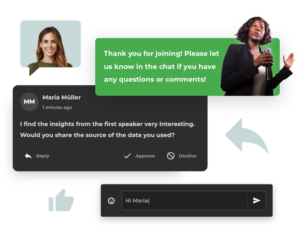 Encourage active participation
Livestreaming of internal events such as town hall meetings enables employees to actively participate and engage with the content in real time. This fosters a sense of affiliation, transparency and collaboration. Employees can ask questions, provide feedback and share their thoughts, resulting in a more connected and informed workforce.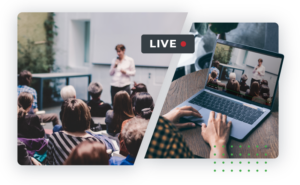 Reach everyone everywhere
Hybrid working offers many benefits, but also challenges. Livestreaming enables companies to overcome geographic barriers and reach remote or distributed teams with ease. It ensures that all employees, regardless of their physical location, have the same access to important updates, announcements and corporate messages.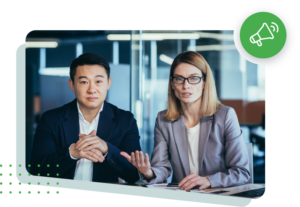 Get everyone on the same page
With real-time access to messages, organizations can promptly resolve misinformation, avoiding potential conflicts or productivity issues. In addition, livestreams can be recorded and stored for future reference, serving as an official communications log that can be recalled as needed.
Your main benefits
Build trust
Regular 2-way communication promotes transparency.
Foster collaboration
Create a company culture of exchange and reduce the internal silo effect.
Support engagement
Inspire and motivate your employees.
Strengthen efficiency
With live-streamed events, every kilometer of travel saved pays off.
Free consultation
with our video experts
What you can expect:
✔️ Discussion of your individual use cases + goals
✔️ Advice on the next steps of your video strategy
✔️ Help with identifying future video potentials
✔️ Evaluating whether our software is right for you